ABACOM LochMaster v3.0 Full Download [38.25 MB]
---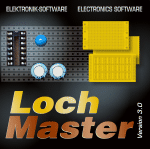 LochMaster 3.0 is a developers tool for strip board projects. It has useful functions for designing documenting and testing a board. Therefore you will find features like auto-generation of components lists a connection test an editable library with a large number of symbols and components and many more.
In the new version we have made the software more realistic. The new extended library looks almost like real components. Another great feature is the integrated board-editor. You can now create your own boards if your desired board is not already defined.

Of course the new version 3.0 is fully compatible to all previous versions. You can load and edit all older projects with this new version.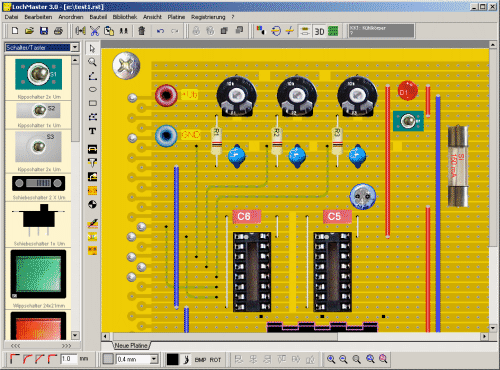 LochMaster displays views of both sides of the board and both sides are editable. You can choose from several board types with different layouts and grids. All required functions like wiring splitting tracks soldering placing components etc. are included and very realistic. The well-sorted and extendable library contains lots of material that can be placed on the board: Electric and electronic components mechanical elements symbols and labels. LochMaster can create components lists and order lists from the component data. Very useful: A connection test displays connected areas of the board and also unused areas are searchable. Last but not least a project can contain several boards and lots of print options are selectable.

The X-ray-function lets the components on the other side of the board shine through just like you would back-light the board. This helps you to recognize signal paths and the mechanical construction of your board.

[Sadece Üyelere Linkler Açıktır.Üye Olun !!! Tıklayarak Üye Olun !!!]

Password : www.proelo.com
__________________
AMD FX X8 8350 Soket AM3+ 4GHz 16MB Cache 32nm İşlemci
ASUS SABERTOOTH 990FX R2.0 AMD 990FX/SB950 AM3+ DDR3 1866MHz SATA 3.0 USB 3.0 Anakart
CORSAIR 8GB (2x4GB) Vengeance DDR3 1600MHz CL9
CORSAIR 8GB Vengeance DDR3 1600MHz CL9 Siyah Tek Modül Ram
Sapphire HD7950 GDDR5 3GB 384Bit AMD Radeon DX11.1 Ekran Kartı
Turuvatek Big Tower 550 Watt (Siyah Saydam)